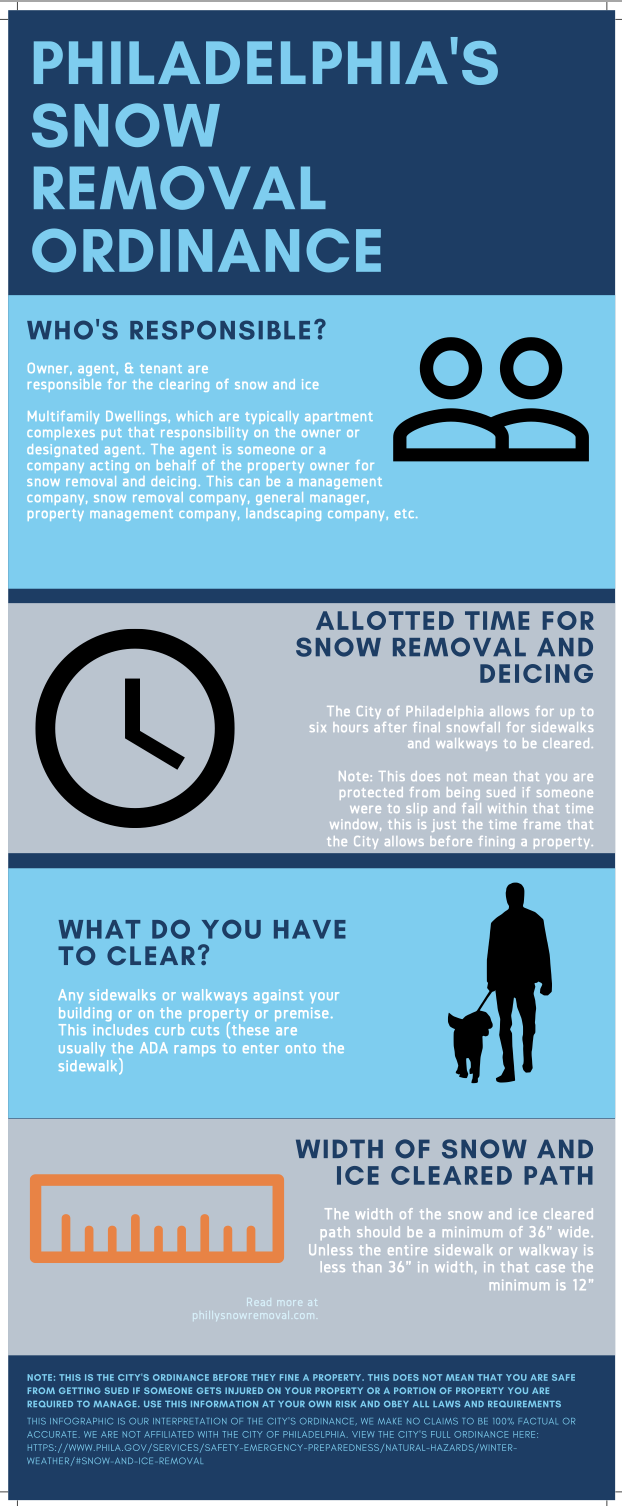 DISCLAIMER: We are not lawyers, this is not legal advice. Please seek advice from an attorney.
Philadelphia's snow removal ordinance is fairly simple. But, don't think that following this ordinance can keep you safe from any liability. Following the rules in the ordinance will keep you from getting fined by The City of Philadelphia, it won't remove your liability in the event that something happens on a property you own or are responsible for.
Here is our simplified breakdown of the snow removal ordinance
Who's Responsible?
The owner, agent, and tenant of the property are responsible, unless it is a multifamily property which then makes the property owner or agent responsible.
*an agent is anyone or any company acting on behalf of the responsible party. This can be the property manager, general manager, snow removal company, etc. This also depends on your agreement with that agent. 
How Much Time is Allowed Before Clearing Snow and Ice?
The City of Philadelphia allows up to six hours after final snowfall to clear snow and ice from sidewalks and walkways.
This also depends on the City's definition of "final snowfall", so keep that in mind.
How Wide Does the Path Need To Be?
Any sidewalk or walkway that is against your building or on your premise needs to be cleared of snow an ice at a minimum width of 36″.
If the total width of the sidewalk is less than 36″, then the minimum width to clear the snow and ice is 12″.
*This includes any curb cuts. Curb cuts are usually ADA ramps or cuts in the curb to enter onto the sidewalk in some form.
Where Do I Put The Snow and/or Ice?
The City doesn't specify where you should move the snow and ice to, but the City does explain that you are not allowed to move and snow and/or ice from sidewalks or walkways into the street
Penalties
The minimum penalty for not following this ordinance is $50
The maximum penalty is $300.
More Importantly
You should not base your snow and ice removal plan or process solely on the City's ordinance. This is their ordinance before they are allowed to fine a property. We think that is is very important to maintain clean and clear walkways, sidewalks, parking lots & and driveways to avoid liability in the event that an accident occurs or someone slips and gets injured. In most cases, waiting up 6 hours after snowfall is not a good idea.
Note: this is OUR simplified interpretation of the City of Philadelphia's snow and ice removal ordinance. We do not make any claims to be 100% factual or accurate. Do not base your snow and ice management around this article or this information. View the city's full snow and ice removal ordinance here:
https://www.phila.gov/services/safety-emergency-preparedness/natural-hazards/winter-weather/#snow-and-ice-removal